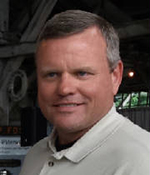 Todd Baker

lead instructor, NASBLA BOAT Vessel Operations Training
instructor, National Safe Boating Council and International Association of Marine Investigators (IAMI)
Mr. Baker retired in 2018 after 29 years with the Clark County Sheriff's Office and 35 years in law enforcement. He spent 20 years working in the marine unit, 16 as a full-time officer.
Mr. Baker is currently a lead instructor for the NASBLA BOAT Vessel Operations Training Program.
He is a USCG credentialed Master with towing endorsement and an Instructor and Vessel Examiner for the US Power Squadron.
Mr. Baker is an instructor for National Safe Boating Council and International Association of Marine Investigators (IAMI).
Mr. Baker was awarded Washington's Marine Officer and Boating Educator of the Year as well as NASBLA Western State's Marine Officer of the Year.