sponsors & Exhibitors
Exhibitors of the 30th Annual Marine Law Enforcement Conference will not only be able to showcase their solutions to marine law enforcement professionals, but they will also be included in the conference sessions and networking events. Full participation in the conference proceedings will allow exhibitors to forge and strengthen the relationships with conference attendees to collaborate and share information. The Marine Law Enforcement Conference is a unique annual opportunity to spend two days exclusively with representatives of all marine law enforcement units across the state.
Please Contact us at sarethn@hsoutlook.com or by phone at 203-990-3131 for the Exhibitor Prospectus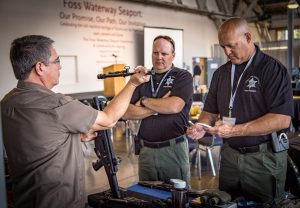 SAFE BOATS INTERNATIONAL – Network Reception Sponsor
SAFE Boats International is a dynamic, industry-leading aluminum boat manufacturer specializing in platforms used in a wide variety of applications, including, but not limited to, military, law enforcement, fire & rescue, and even pleasure. Click here for more info
---
Firstwatch
Firstwatch Gear: Hi-performance flotation PFD's, Inflatables, Flotation Clothing, Ice Rescue and Officer Rain Gear. The company specializes in first responder gear. Official supplier of flotation gear for NASBLA BOAT Trainers.
Pacific Quest Int'l LLC DBA FirstWatch Gear. info@firstwatchgear.com. Click here to learn more
---
H.H. Bauer & Associates, Inc.
Bauer and SKB Cases is the Pacific Northwest's premier representative of several lines of cases including Pelican, Storm, and Hardigg. In-house design and custom fabrication abilities allow us to fill the needs of any project. Bauer stocks many types and densities of foam, which can be tailored to fit any case or targeted development. We produce top of the line custom foam interiors utilizing Solid Works modeling software and Custom Flow Water Jet Technology. Our company also stocks fire retardant foams for aerospace and military projects. Click here for more info
---
Hurricane Butterfly – Networking Reception Sponsor
Hurricane Butterfly is a Law Enforcement distributor and reseller of the latest and most innovative law enforcement products on the market. From Ammo, firearms, Less Lethal, tactical supplies, vest, to Thermal & Night Vision Just to name a few, Hurricane Butterfly has what every law enforcement officers need for their day to day operations. Beretta, Bravo Company, POF and Barrett are just a few of many brands that Hurricane Butterfly carries. Click here to learn more
---
Inventech Marine Solutions (IMS)
Inventech Marine Solutions (IMS) was founded with the goal of becoming the forward most thinking company in the marine industry. Our culture builds on the ideas of looking forward to better all aspects of marine used products. We believe in designing, testing, and perfecting new technologies that focus on safety, usability, and versatility to all users. These technologies are made available through our two brands FAST and Life Proof Boats. Click here for more info