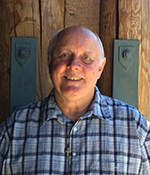 Art Brown

Chief of Information Management
Washington State Parks
Art Brown has worked in Washington State government service since 1971 and has 42 years of experience as an information technology professional. He served 22 years as the Chief of Information Management for Washington State Parks.
Art joined the agency's Boating Program team in 2003 as their Information Technology System Specialist. In that capacity he has been involved in numerous information technology projects. These projects include implementation of the USCG's Boating Accident Reporting system, Vessel Pump-Out Information System, Mandatory Boater Education Card system, and Summary of Activity Reporting (SOAR) system. Art is currently involved in the development and implementation of the Washington State Patrol's SECTOR Vessel Contact system.
Since 2002, Art has been a licensed Foursquare Church minister and the inmate chaplain at the Thurston County Corrections Facility. He has received numerous awards from the Thurston County Sheriff's Office for his service and in 2008 received the American Jail Association Volunteer of the year award. As part of his ministry, he operates a Christian housing and recovery community in Tumwater, for men coming out of prison and jail. He resides with his wife Terri and two daughters in Rochester, Washington.