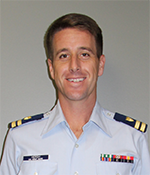 LT Greg Hersh
Deputy Enforcement Chief
U.S. Coast Guard Sector Puget Sound
LT Greg Hersh serves as the Deputy Enforcement Chief at Sector Puget Sound, Seattle, WA, responsible for all maritime law enforcement and security activities in the Salish Sea, 3500 nautical miles of federal waterways in Washington, Idaho, and Montana, and 125 miles of international border with Canada. Previously, he served as the Advanced Law Enforcement School Chief at Maritime Law Enforcement Academy, FLETC, Charleston, SC, and Enforcement Division Chief at Marine Safety Unit Port Arthur, TX.
He earned his commission in 2010 after graduating from the Virginia Military Institute as the school's first triple major. He earned an MA in Global Diplomacy from SOAS University of London, United Kingdom.
LT Hersh's decorations include the Coast Guard Commendation Medal (2 awards), Coast Guard Achievement Medal (2 awards), and numerous unit and team awards. He is the winner of the 2012 Houston Federal Executive Board for Interagency Collaboration, the 2018 Seattle Federal Executive Board for Exceptional Governmental Service, and was the only American attendee at the 2012 International Maritime Interdiction Course in Cartagena, Colombia. He was a featured presenter at the 2017 International Society for Performance Improvement (ISPI) conference in Montreal, Quebec. He is a designated Canadian Peace Officer under the U.S.-Canada Integrated Maritime Law Enforcement Operations program.
LT Hersh is married to the former Ashley Kaelin of Virginia Beach, VA. They have a son, Calvin (2).