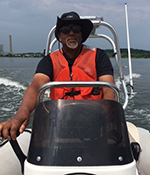 Rodney Rochon
USCG Master 100 ton
WA ST Parks/NASBLA Boating Instructor
Married to wife Kitty. Free time is spent traveling in our RV with our three dogs, umpiring high school & college baseball and competitive shooting.
Born and raised "Army Brat", born Presidio of San Francisco. Graduate of the University of San Francisco, BS Business Administration Management Science.
Upon graduation attended USCG Officer Candidate School. Served as an officer for 13 years. Duty assignments were in Marine Safety, Environmental Protection, Maritime Law Enforcement and Deck Watch Officer. Worked as a Snohomish County Deputy for over 32 years recently retiring at the rank of Lieutenant. Duty assignments covered all aspects of patrol and special operations. For 30 years was a member and later supervisor of the Marine Services Unit. Also 30 years as a member and later Commander of the SCSO Honor Guard
An instructor for the Washington State Parks Boating Safety Program since 1988, NASBLA since 2014 and Flagship Maritime since 2016. Currently hold a US Coast Guard Merchant Mariner's Credential as Inland Master 100 ton and Coast Guard OUPV instructor. In addition to teaching marine safety serve as Water Safety Chairman for Safe Kids Snohomish County.
Extensive background in ICS. Member of the Behind the Badge Line of Duty Death Response Team, a Type 3 incident response team and Certified Homeland Protection Professional.